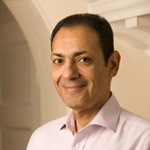 Mr Hesham Saleh
FRCS (ORL-HNS) Consultant Rhinologist/Facial Plastic and ENT Surgeon
Hesham Saleh: Consultant Rhinologist, Facial Plastic Surgeon
Mr Hesham Saleh MBBCh, FRCS, FRCS (ORL-HNS) is a consultant rhinologist/
facial plastic surgeon at Charing Cross Hospital and the Royal Brompton Hospital in London. He is also an honorary senior lecturer of ENT surgery at the Imperial College London.
Mr Saleh trained in at Ninewells Hospital in Dundee, The Royal National Throat, Nose and Ear Hospital and Charing Cross Hospital in London where he learned from internationally renowned rhinoplasty and sinus surgeons. Mr Saleh obtained his FRCS (ENT) in 1995 and FRCS (ORL-HNS) in 1999. From early on in his career, he chose to specialise in treating the nose, including both its functional and cosmetic aspects. He became a Fellow of the European Academy of Facial Plastic Surgery at Amsterdam Medical Centre, Holland in 2000. He was also a visiting fellow to centres of expertise in rhinoplasty and rhinology in the USA.
Mr Saleh is a leading figure in rhinoplasty, both cosmetic and functional, and in sinus surgery. He was selected by The Times as one of Britain's top 140 doctors and top 50 surgeons. He was also listed by the Tatler Magazine as one of the top 30 British cosmetic surgeons as "best for noses".
Clinical interests
Mr Saleh specialises in the nose and the conditions related to it. His areas of expertise include:
• Rhinoplasty (both functional and cosmetic)
• Endoscopic sinus surgery
• Endoscopic lacrimal (tear duct) surgery
• Endoscopic anterior skull base surgery
• Nasal allergy
Research interests
Mr Saleh is the Imperial College ENT course coordinator for undergraduate students. He is the President Elect of the Section of Laryngology and Rhinology in the Royal Society of Medicine. He is also a member of the council of Facial Plastic Surgery-UK (FPS-UK).

He organises national post-graduate courses (for ENT and consultants from other specialities) on cosmetic rhinoplasty, lacrimal surgery, sinus and extended skull base surgery. He is also regularly invited as an international expert in rhinoplasty and rhinology in conferences worldwide. Mr Saleh has published more than 80 peer reviewed articles and several book chapters on rhinoplasty and rhinology.
Published papers
Please click here to view Mr Saleh's published papers
Professional memberships
Facial Plastic Surgery-UK
ENT-UK
European Academy of Facial Plastic Surgery
British Rhinological Society
European Rhinologic Society
British Society for Allergy and Clinical Immunology
Royal Society of Medicine
Testimonials
"I have recently had a very successful primary septorhinoplasty with Mr Saleh. I am delighted with the result. The whole team Harley ENT Practice are very helpful and take great pride in their work.
I found the whole process to be smooth and would strongly recommend Dr Saleh to anyone looking to have a rhinoplasty.
As well as being an incredibly talented surgeon, he also has a very warm and friendly manner"
Sima D. London
"Dr H. Saleh has improved my quality of life dramatically, is a credit to his profession and a true gentleman. I also appreciated his after-care which lasted over a year, and I was never a bother to him. God Bless."
Andrew P. London
" Dear Mr Saleh,
A belated thank you to you and your teams, administrative and clinical, for the truly excellent care and help before, during and after my recent operation.
I always feel that you all have my very best interests at heart and that nothing is too much trouble.
My very grateful thanks to you all."
David H. Kent
"From start to finish of my Septorhinoplasty, I was met with the highest standard of care from Mr Saleh and his team. I was confident in the knowledge that I was in the hands of an extremely highly-trained surgeon, with an astounding reputation amongst his patients and peers, who truly cared about my outcome.
Mr Saleh took the time to listen and address all my concerns fully with a great kindness and understanding. He really made the whole process swift and easy for me. Coming from a medical background, I was able to fully appreciate the extensive knowledge, experience and achievement Mr Saleh has made in his field and I knew there isn't anyone better I could have hoped for to have been my doctor.  
I cannot thank him enough for the fantastic results, my breathing became clear within the first week of surgery and it has continued to improve vastly since. My nose looks extremely natural and it is impossible to tell I have had surgery at all.
His team were very professional, personable and clearly very experienced with dealing with patients like me. I was easily able to make contact with any questions I had and I found their support above and beyond my expectations. 
I cannot stress enough how hassle-free the surgery and the after care has been. It really has been down to this world-class team offering a high-quality service. If you decide surgery is for you, I would whole-heartedly recommend Mr Saleh and his expert practice.
I'm very grateful to you all, thank you so much!"
Katherine. R, Oxford.
"Following a septoplasty and reduction of turbinates performed in June 2010 in the Midlands, I was left with a perforated septum as a result. I had a whistling sound which indicated that there was something wrong with my nose. I searched all over England for a specialist ENT surgeon, but it was virtually impossible. I went to Harley Street and was finally recommended to Mr Hesham Saleh, who miraculously said he could do it for me. To find a gifted surgeon to repair a hole in the nose is a blessing, as not many ENT surgeons can both resolve ENT problems as well as attempt a repair on the septum. I would recommend Mr Hesham Saleh as the finest ENT surgeon one could possibly have."
Micheline. A, Leicestershire