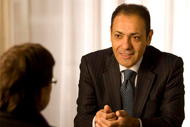 Hesham Saleh
" I awoke at 4am with the most excruciating pain in my eye. On closer inspection the entire RHS of my face was completely distorted & very swollen, also I could not breathe. I was totally disorientated, unstable & afraid.
I was admitted to hospital by ambulance & deposited in the stroke ward, where I remained for 36 hours.
I was absolutely desperate as no one was making a decision on my case.
I was dispatched to the Western Eye hospital on 3 separate occasions each resulting in a different opinion. After CT scans & two MRI scans I suddenly found Mr Hesham Saleh & his team at the foot of my bed insisting I required immediate, urgent surgery. I could not focus nor concentrate the pain was so severe. Somehow, I just knew here was someone who was in charge. His professional manner displayed quiet confidence that was totally focused on my specific condition.
Mr Saleh performed Endoscopic drainage as an emergency on my right eye. The instant pain relief was unbelievable & I could breathe again!
After another few days & further MRI scans they discovered I had a Right-sided orbital haematoma. This necessitated further superior collection drained through external incision together with sphenopalatine artery ligation.
I remained in hospital for two further weeks under close supervision by Mr Hesham Saleh & his team. Although I am still on Rivaroxaban blood thinners, I no longer suffer from the constant excessive nose bleeds. I have since been told by a number of people with a medical background that my condition is virtually totally unknown in the profession.
I have the greatest respect for the manner in which Mr Saleh & his team have treated me. He has an excellent reputation & total credit to his profession. I still think back on how fortunate I was to be treated in an emergency by a specialist in Endoscopic Skull based surgery. I have absolutely no doubt that I owe my eyesight to Mr Hesham Saleh."
Elizabeth
Kensington
---
"My name is Michel Vivier, last year around June my nose started dripping constantly, I made several visit to my GP and was prescribed some nose drops ,nothing seems to work .I was feeling tired ,having bad headaches and feeling very low. I contacted a specialist and made an appointed .On my visit ,he recommended that I go and see a Consultant Rhinologist surgeon as he suspected I had a CSF leak.
A CSF leak is a condition that occurs when the CSF leaks through a defect in the dura or the skull and out of the nose or ear .This resulting to a hole or tear in the dura, the outermost layer of the meninges. Its a clear watery drainage to one side of the nose, it's worst when bending forward and straining. This could have happened when I had a sneezing fit ,this can also happened in head injury to the brain.
I contacted the Harley ENT practice and spoke to Mr Hesham Saleh consultant Rhinologist, facial plastic surgeon PA Sharon Atkinson and made an appointment.
On my visit to Mr Hesham Saleh ,he confirmed that I had a CSF leak and required to have a surgery as soon as possible .He introduced me to Sharon Atkinson who made all the necessary arrangement to be admitted and for the operation to be carried out. I was made very welcome and was less worried as the whole team was so professional .
It's now 7 months coming and I am getting much better . As a worried person ,I can truly say that having place myself in the hand of Mr Hesham Saleh, I believed he is not only one of the best specialist ,very caring ,dedicated to his work and making time to make sure his patient recovery goes well .
My special thanks and gratitude to Mr Hesham Saleh and the whole team that made me feel so welcome to the Hartley ENT practice."
Michel Vivier

---
"Mr Saleh is a star! After a serious illness left me struggling to breathe through my nose, I was referred to him. His care, compassion and attention to detail was superb. He did an incredible job and the support from the start to the end of my 'nose journey' from both him and Sharon was excellent. After 10 years of avoiding mirrors, I can now look at myself again. Thank you!"
Anon

---
"I have recently had a very successful primary septorhinoplasty with Mr Saleh. I am delighted with the result. The whole team Harley ENT Practice are very helpful and take great pride in their work.
I found the whole process to be smooth and would strongly recommend Dr Saleh to anyone looking to have a rhinoplasty.
As well as being an incredibly talented surgeon, he also has a very warm and friendly manner."
Sima D
London
---
"Dr H. Saleh has improved my quality of life dramatically, is a credit to his profession and a true gentleman. I also appreciated his after-care which lasted over a year, and I was never a bother to him. God Bless."
Andrew P
London
---
" Dear Mr Saleh,
A belated thank you to you and your teams, administrative and clinical, for the truly excellent care and help before, during and after my recent operation.
I always feel that you all have my very best interests at heart and that nothing is too much trouble.
My very grateful thanks to you all."
David H
Kent
---
"From start to finish of my Septorhinoplasty, I was met with the highest standard of care from Mr Saleh and his team. I was confident in the knowledge that I was in the hands of an extremely highly-trained surgeon, with an astounding reputation amongst his patients and peers, who truly cared about my outcome.
Mr Saleh took the time to listen and address all my concerns fully with a great kindness and understanding. He really made the whole process swift and easy for me. Coming from a medical background, I was able to fully appreciate the extensive knowledge, experience and achievement Mr Saleh has made in his field and I knew there isn't anyone better I could have hoped for to have been my doctor.  
I cannot thank him enough for the fantastic results, my breathing became clear within the first week of surgery and it has continued to improve vastly since. My nose looks extremely natural and it is impossible to tell I have had surgery at all.
His team were very professional, personable and clearly very experienced with dealing with patients like me. I was easily able to make contact with any questions I had and I found their support above and beyond my expectations. 
I cannot stress enough how hassle-free the surgery and the after care has been. It really has been down to this world-class team offering a high-quality service. If you decide surgery is for you, I would whole-heartedly recommend Mr Saleh and his expert practice.
I'm very grateful to you all, thank you so much!"
Katherine R
Oxford
---
"Following a septoplasty and reduction of turbinates performed in June 2010 in the Midlands, I was left with a perforated septum as a result. I had a whistling sound which indicated that there was something wrong with my nose. I searched all over England for a specialist ENT surgeon, but it was virtually impossible. I went to Harley Street and was finally recommended to Mr Hesham Saleh, who miraculously said he could do it for me. To find a gifted surgeon to repair a hole in the nose is a blessing, as not many ENT surgeons can both resolve ENT problems as well as attempt a repair on the septum. I would recommend Mr Hesham Saleh as the finest ENT surgeon one could possibly have."
Micheline A
Leicestershire
---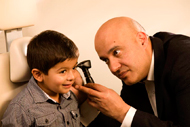 Guri Sandhu
"It is with great pleasure that I write this 'testimonial'. In April 2010, I was diagnosed with Guillain Barre Syndrome (GBS) and spent 2 months in hospital. My recovery from GBS exceeded all doctors' expectations however I was subsequently diagnosed with bilateral vocal cord paralysis and discharged from hospital with a tracheostomy.
For seven months I was seen by ENT consultants who all diagnosed my vocal cord paralysis as a side effect of GBS and I was advised to "be patient". At my last appointment in October, I was advised to come back in a further 6 months.
At this time a neurologist referred me to Mr Sandhu and within just five weeks of my initial consultation my tracheostomy was out! Mr Sandhu diagnosed my condition as "post-intubation glottis stenosis". The following week Mr Sandhu carried out laser surgery to my vocal cords. Three weeks later I was back in hospital again but this time for decannulation of my tracheostomy.
Mr Sandhu has changed my life and also my families' lives. I feel very fortunate to have met Mr Sandhu. Without him I would no doubt still have my tracheostomy and still be unable to read to my little boy."
H. Anderson
Essex
---
"Dear Mr. Sandhu,
As you know, I was totally happy with my nose operation – it is so marvellous not to be experiencing nose bleeds any more. I only wish I had known about you before I had my original operation. It would have saved a totally unnecessary correction of my deviated septum, which had never given me any trouble or interfered with my breathing!"
Thank you once again."
M. Brown
West Sussex
---
"I had almost completely lost my singing voice due to a cyst on one vocal cord, which required surgery. Mr Sandhu took tremendous care over the operation and my voice is now completely restored, eight weeks post-surgery. It feels miraculous, and the care I received was, I believe, exceptional."
P. Potter (actress/singer)
London
---
"Ten years ago neck surgery led to my left vocal cord being paralysed. As a Headmaster it proved difficult to do my job with only half a voice! Eventually I asked my local ENT consultant to refer me to the very best person for corrective surgery. I was sent to Mr Guri Sandhu in late February 2012 and by the end of March my voice had been restored. I am absolutely delighted. My life has been changed. It has been brilliant. Quite simply, Mr Sandhu is the very best."
Kind regards
N. Lovell
Warwickshire
---
"Liane, my daughter, has Down's syndrome and suffers from a lot of ear infections. She has been seeing Mr Guri Sandhu at The Harley ENT Practice for over two years, on a monthly basis. He won her trust quite quickly, which is not easy with someone who has special needs. He is always kind and patient with her and is a brilliant doctor.
I also have been treated by Mr Sandhu for sinus/throat infections. He is always spot on.
As for the staff at The Harley ENT Practice – Radka, Emma and Stephanie – I have nothing but praise for them; they are welcoming and helpful at all times and a pleasure to deal with."
M. Fanous
London
---